IO-Power IOP-DPOE-OSW1248-4
『Dedicated to Lightning Area』
Outdoor DC to DC Power over Ethernet (PoE) 4Ports Switch
Input 12~24VDC to 4Port 120W (Max) support 48V-30W Standard Mode
(To be completed with online 12~24VDC DC UPS Power System)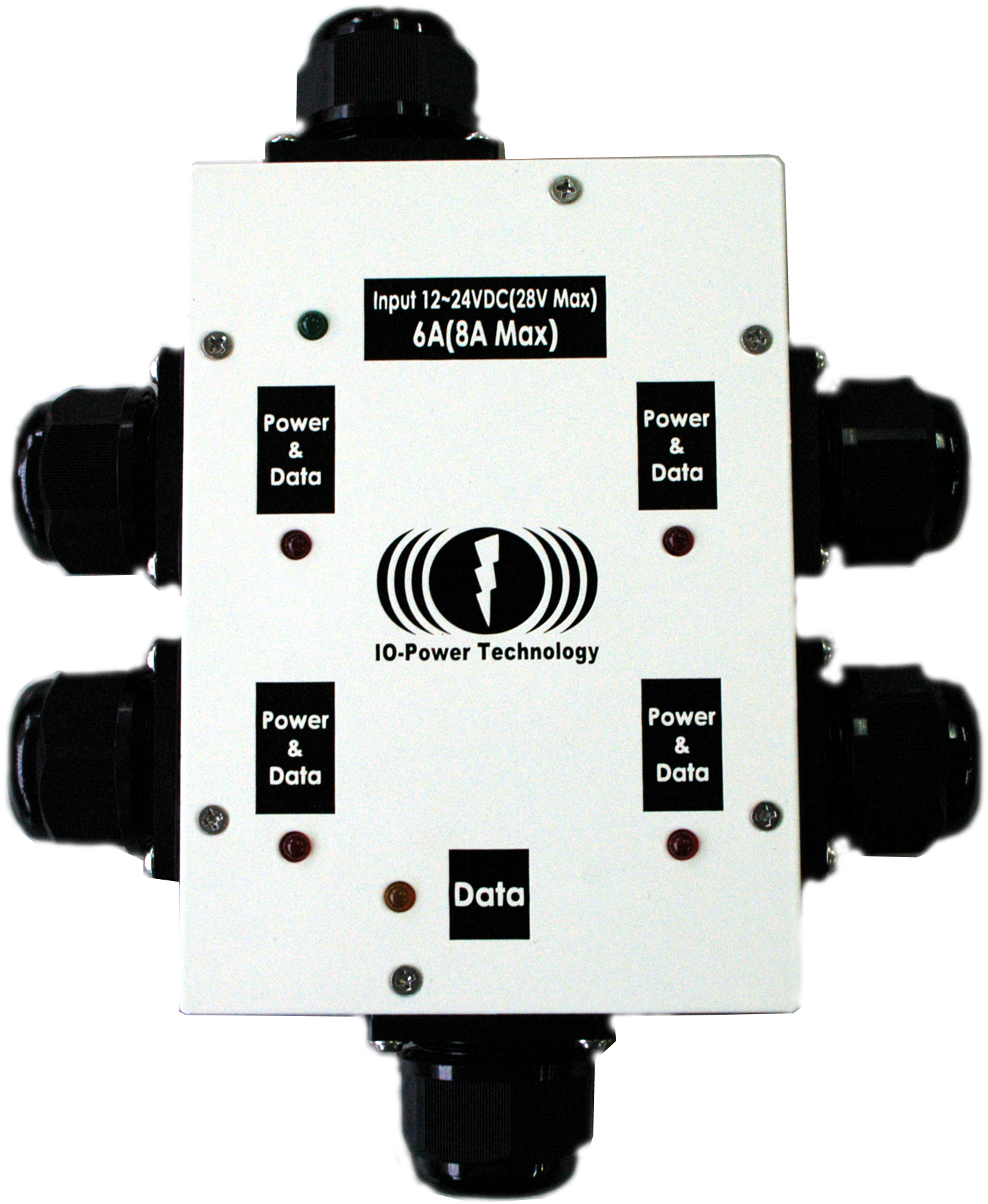 IOP-DPOE-OSW1248-4 is an outdoor DC-to-DC Power over Ethernet (PoE-PSE) 4Ports Switch. To respond to outdoor DC UPS power system, the power source is from online outdoor DC UPS system or general 12~24VDC power adapter. Complete with DC-to-DC PoE-PSE 4Ports Switch, supplying power for the device through Ethernet cable (RJ-45). 4Ports PoE Switch can switch each port data in four PoE-PSE Ports and 1 data port.
DC to DC PoE-PSE 4Ports Switch is adopted industrial level of Iron metal thermal protection shell and waterproof dust reached IP67 of mechanism design and the Waterproof and heat-resistant beam head to handle the outside tough temperature at -40°C ~ +80°C to maintain the outdoor system normally working during day and night.
IOP-DPOE-OSW1248-4 adopts the compatibility with IEEE 802.3af and IEEE 802.3at standard and automatically detecting the data transmission port (by chip communication protocols). It been applied for IEEE 802.3af 100Mbps Ethernet power supply port and IEEE 802.3at 1000Mbps Ethernet power supply port.
The IOP-DPOE-OSW1248-4 is especially to design PoE 4Ports total 120W Max for output power & 1000Mbps (1Giga) bandwidth for each port. The output voltage is from minimum 45VDC to maximum 56VDC, standard voltage is 48VDC. The minimum output power is 15W while the 4Ports output power is 15W+15W+15W+15W=60W by 12VDC 6A (8A Max) for those devices. The maximum output power is 30W while the 4Ports output power is 30W+30W+30W+30W=120W by 24VDC 6A (8A Max) for those devices.
The IOP-DPOE-OSW1248-4 is special design for outdoor wireless devices, outdoor IP Camera surveillance system , outdoor IP Speed Dome (IP PTZ), outdoor emergency rescuing system, mobile power supply system, outdoor surveillance recording system (NVR), outdoor public sign and indication system (Sensor) , elevator security monitoring system, fire security system, expressway charges trading surveillance system, etc.
The IOP-DPOE-OSW1248-4 uses 12~24V (11.5~28V) DC input power as its main designing originality, which is different from the general AC input power model. Being able to complete with DC-required adapters or power supply system, for example, 12~24VDC adapters, 12~24VDC UPS systems, 12~24VDC solar UPS systems, 12~24VDC wind power UPS systems and general 12~24VDC UPS systems, etc.
The IOP-DPOE-OSW1248-4 can be as voltage booster and data splitter. When you input 12VD, it will boost up to 48VDC, 0.65A Max.
The IOP-DPOE-OSW1248-4 can be used with 12VDC~28VDC, integrated into DC UPS power supply, regulated power supply, impact against power spikes and noise filtering power features, used in indoor and outdoor surveillance systems, military police patrol car, truck equipment, van bus surveillance system, public transportation bus surveillance power supply, the power supply system of rail transit equipment ... And so on; battery capacity depending on the design of matching sizes, device or system without interrupting the power supply can be, when without input power source the power supply available for ~ 1 hour for 168 hours (7 days).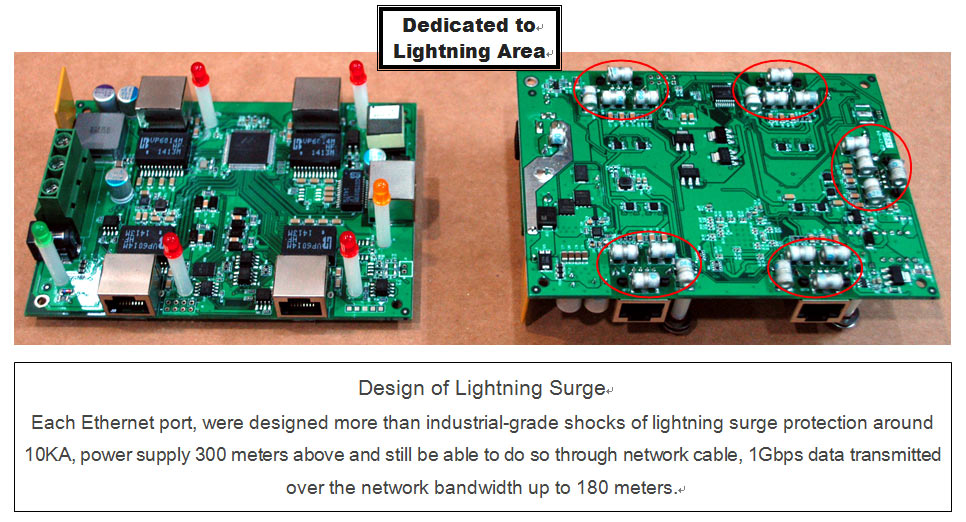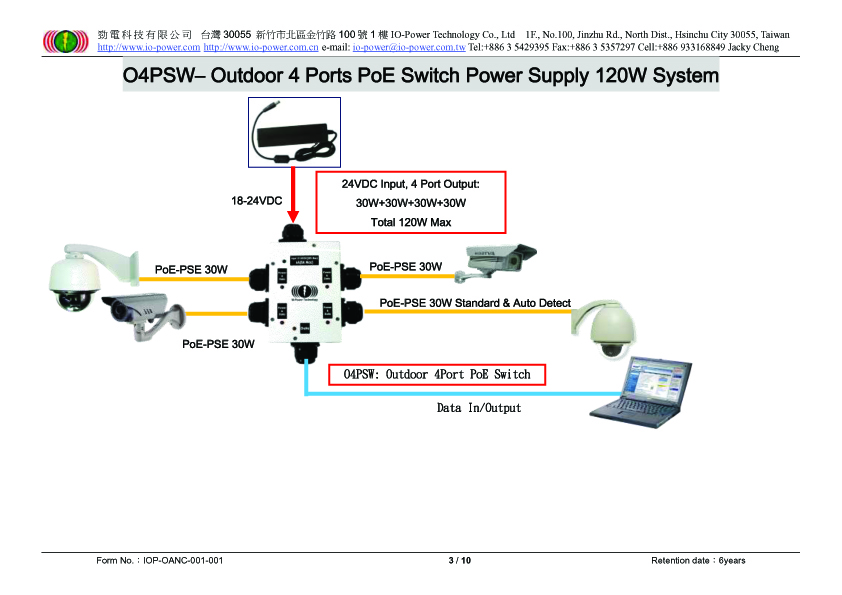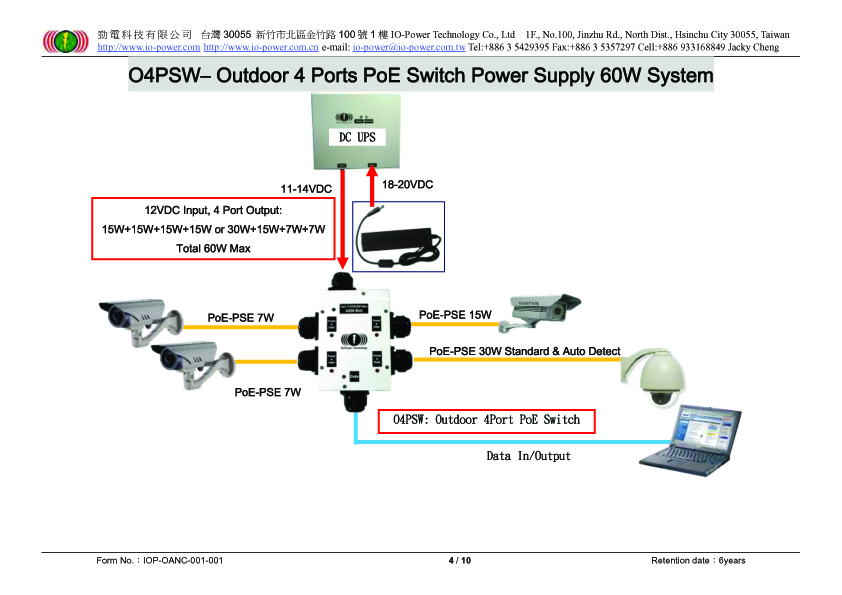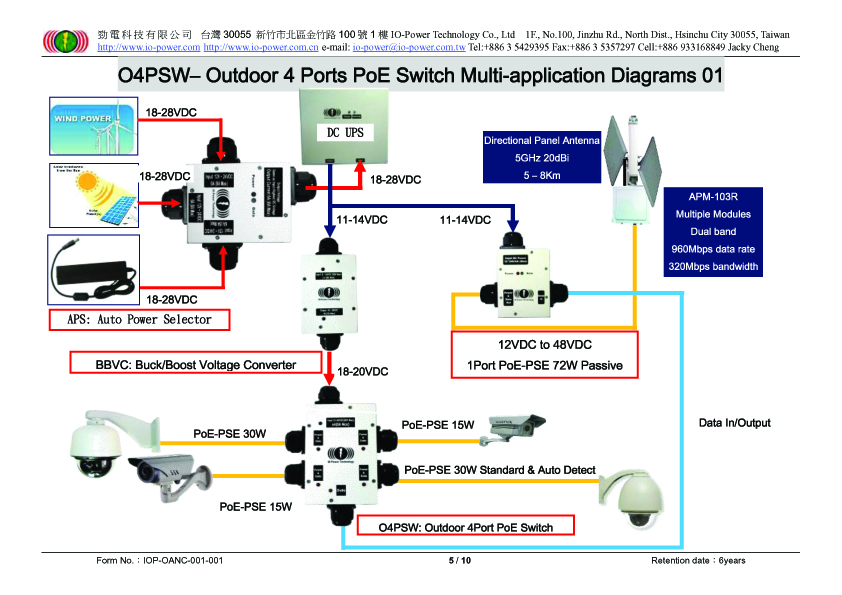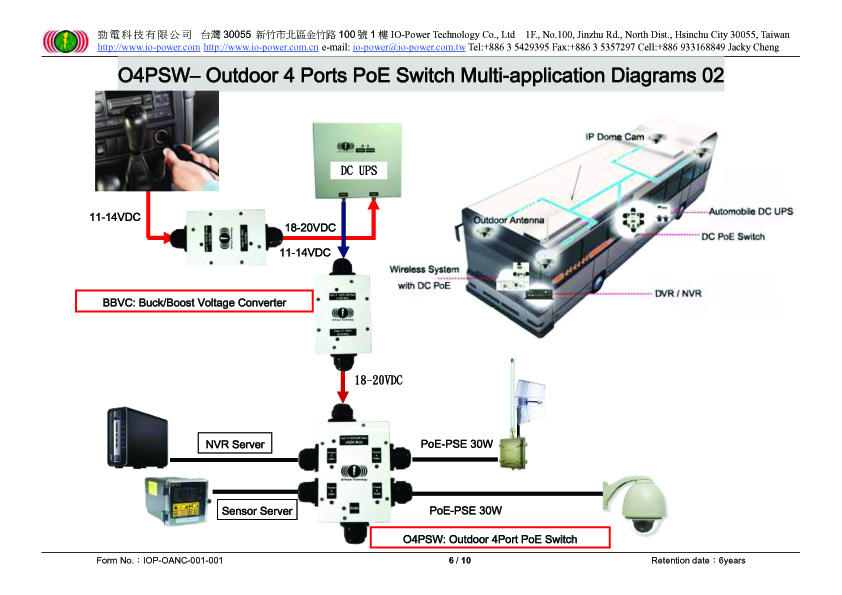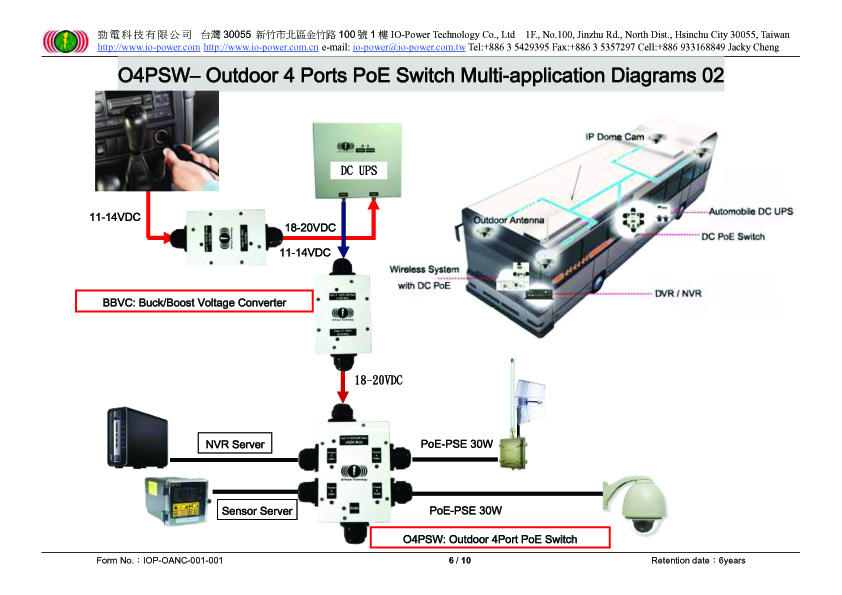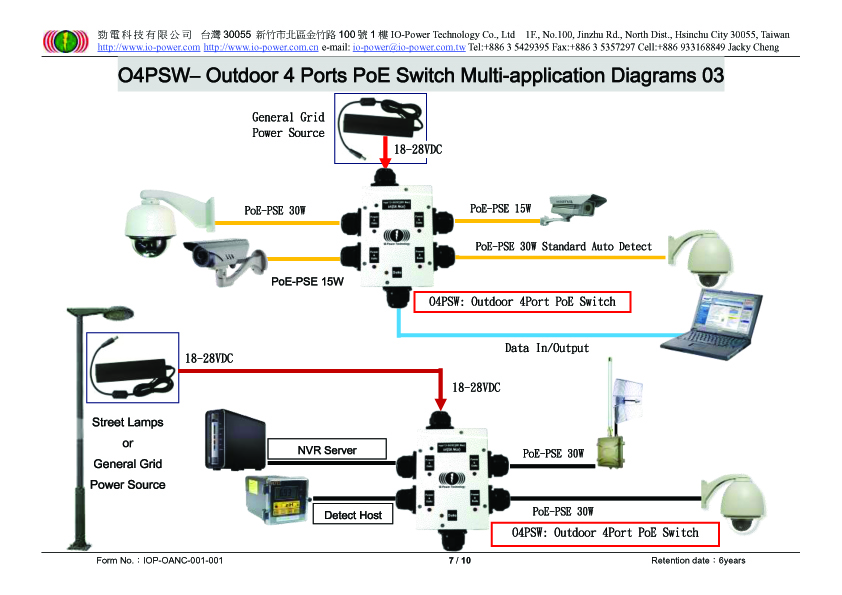 IOP-DPOE-OSW1248-4 Specification
Model Number

IOP-DPOE-OSW1248-4

Outdoor DC to DC PoE 4Ports Switch

Iron Airtight Housing

IP 67

『Dedicated to Lightning Area』

Input DC Voltage

12~24VDC (28V Max)

Input DC Current

12VDC 6A (8A Max)
24VDC 6A (8A Max)

Output PoE DC Voltage

48VDC (45VDC is Minimum & 56VDC is Maximum)

Output DC Current

0.65A Max Each Port
4 Port Output : 5A Max

Output Power Consume Watts

30W (32W Max) Each Port
12VDC Input, 4 Port Output : 15W+15W+15W+15W or 30W+15W+7W+7W
Total 60W Max
24VDC Input, 4 Port Output : 30W+30W+30W+30W
Total 120W Max

Ethernet Pin Number

Power + Data Output PIN : 1 ~ 8
Power PIN : 1 & 2 / 3 & 6

Ethernet Compatible

Compatible with IEEE802.3 / 802.3u / 802.3af / 802.3at PoE-PSE Standard

Auto Detect 10/100/1000Mbps (1Gbps) Bandwidth Each Port

Ethernet Cable SPEC

RJ-45 Cat.5 / Cat.5e / Cat.6 / Cat.6e / Cat.6A / Cat.7~

Transform Efficiency

90%~

Protection

Built-in MCU for PoE power management
Automatic detection of Ethernet transmit bandwidth 10/100/1000Mbps
Over discharge protection
Input power over current protection
Input power supply over voltage protection
Imported power polarity protection for anti-welding

Industrial Housing & Connector

Iron Airtight Housing
IP 67 Gland Connector

Connector Type

Input DC Power: 11.5~28VDC Max DC Jack Female
Input DC Power Terminal Block (Optional)
Power + Data Output: RJ-45 Port * 4 Ports
Data Input:RJ-45 Port

Communication interface

RS-485 (Optional)

Operating Temperature

-40°C ~ +80°C

Storage Temperature

-40°C ~ +85°C

Rel. Humidity

5~95%RH

Dimension

235mm(L) x 172mm(W) x 42mm(H)

Weight

0.7Kg

LED Indicator

1.Plug DC Jack, Input DC Power, Red LED Light
2.RJ-45 Ethernet Cable Plug Into Power + Data Output Port, Green LED Light

Dusty & Waterproof

IP67

Approvals

CE Class B & FCC Part 15B

Installation

1.Street lamp pole mount or Upright pole mount
2.Wall mount installation

Warranty

12 months
Ps 1: Product specifications change, without notice, consultation with agent or dealer before buying the latest specifications
n IP67 Dust-proof & Water-proof Certification