IOP-DAPI-12242A-1

IOP-DAPI-24242A-1

Input 12Vdc to Output 24VAC
Input 24Vdc to Output 24VAC
Input Current 6A~ Above
Input Current 3A~ Above
Output 24VAC/2.5A--60W Max
Output 24VAC/2.5A--60W Max

Specially designed for Speed Dome 24VAC AC power supply

Data Sheet
Data Sheet

New release !!

I
O-Power IOP-DAPI-12242A-1
Outdoor 12VDC to 24VAC Power Inverter
Special Design for Speed Dome 24VAC Power Solution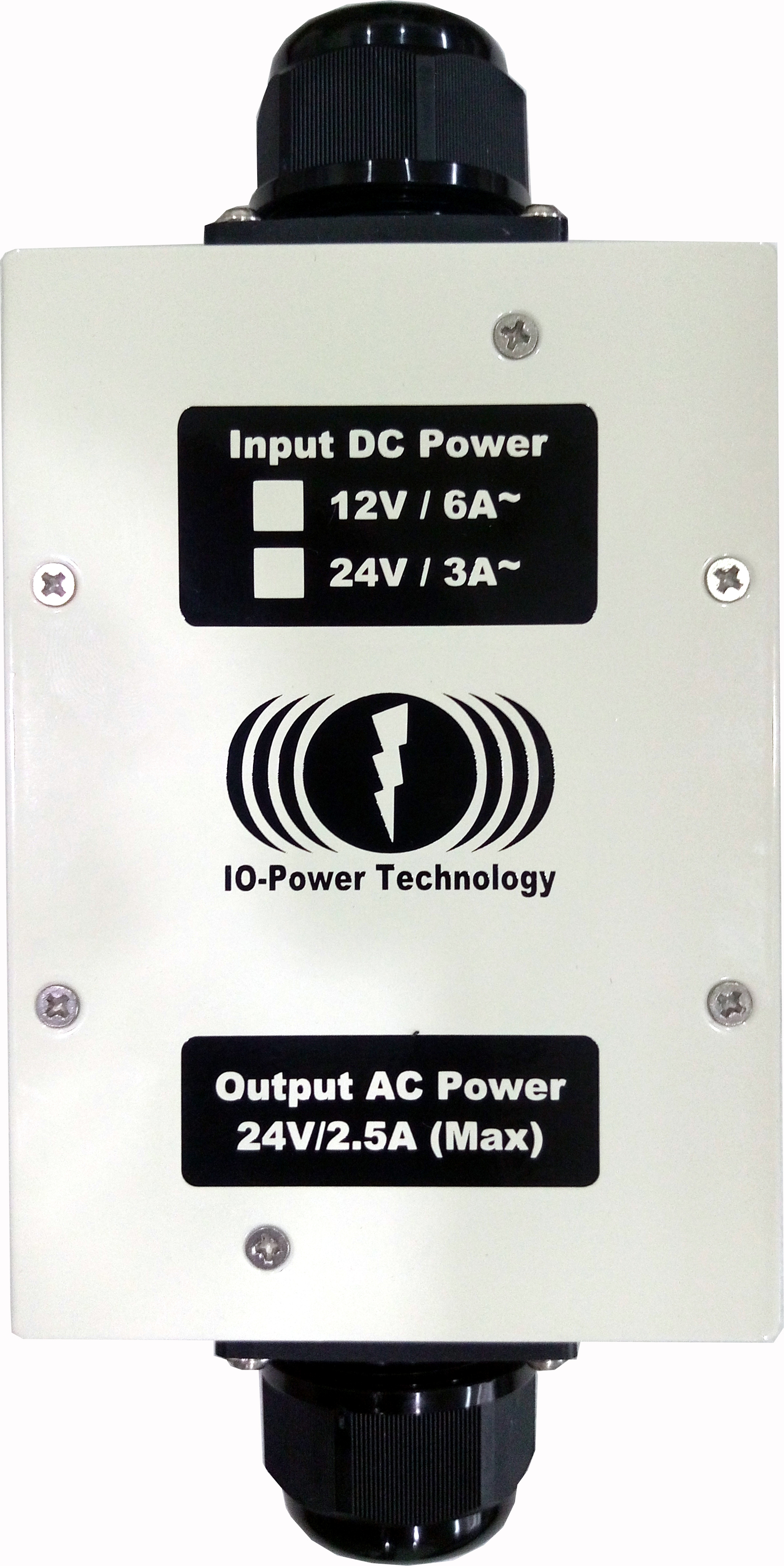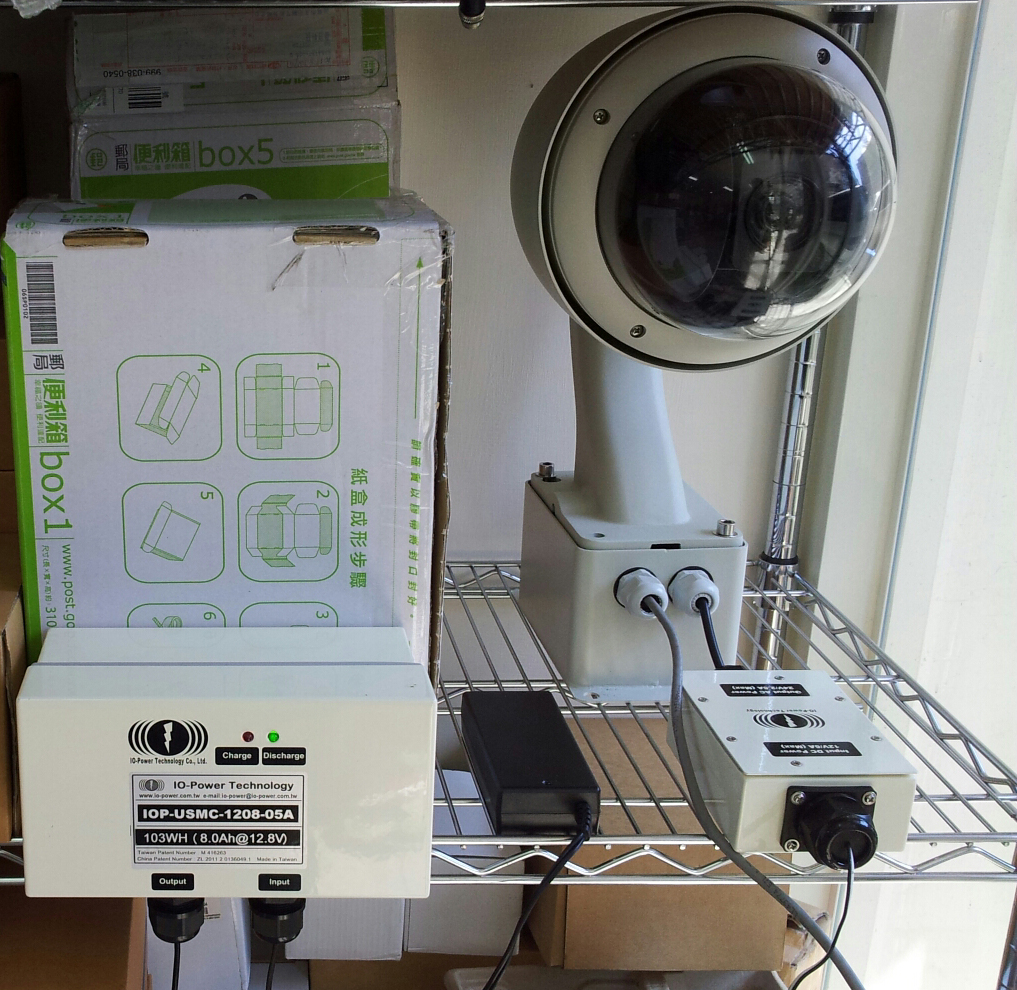 IO-Power IOP-DAPI-12242A-1 is a specially designed outdoor DC to AC Inverter for 24VAC Speed Dome, adopting 12VDC input power, which is different from the usual adapter—input power 100~240VAC, output power 24VAC. It helps the system integration (SI) easily collocate with 12VDC power source from the Outdoor DC UPS power system and 12VDC power source from the adapter (over 5A). It decreases the power transmission loss from DC to AC, then anther power transmission loss from 110VAC~240VAC to 24VAC (about 15%~30% loss of electricity). Therefore, IOP-DAPI-12242A-1 is especially suitable for green energy power system, such as solar power system and winder power system. The electricity loss it saves makes 30% of cost benefit for the whole power system.
DC to AC Inverter is adopted industrial level of Iron metal thermal protection shell and waterproof dust reached IP67 of mechanism design and the Waterproof and heat-resistant beam head to handle the outside tough temperature at -30°C ~ +60°C to maintain the outdoor system normally working during day and night.
IO-Power IOP-DAPI-12242A-1 adopts 12VDC input power (6A maximum) of high current. The maximum output power can reach 60W, enough for the normal Speed Dome which consumes 8~12W/H, and for the long-distance infrared rays Speed Dome, which consumes 18~24W/H. The 24VAC voltage and 2.5A current can manage the transient current of Speed Dome which reaches 1.5~2A to reach the requirements of the Inverter of "Special Design for Speed Dome Power Solution".
Adopting 12VDC input power can collocate with not only 12DVC power source from Outdoor DC UPS power systems, but also 12VDC power source from normal adapters (over 5A). Therefore, the applications are for 24VAC outdoor surveillance system, 24VAC outdoor emergency rescuing system, 24VAC mobile power supply system, 24VAC outdoor surveillance recording system, 24VAC outdoor public sign and indication system, 24VAC outdoor financial security system, 24VAC elevator security monitoring system, 24VAC fire security system, 24VAC expressway charges trading surveillance system, etc.
IOP-DAPI-12242A-1 Specification
Model Number

IOP-DAPI-12242A-1

Outdoor 12VDC to 24VAC

Iron Airtight Housing

IP 67

Input DC Voltage

12VDC (11VDC~15VDC Max)

Input DC Current

12VDC 6A Max

Output AC Voltage

24VAC (20VAC~25VAC Max)

Output AC Current

2.5A Max

Output Power Frequency

47-63 Hz

Output Power Consume Watts

60W Max

Input Connector

DC Jack Connector

Output Connector

DC Plug Connector

Transform Efficiency

85%~

Protection

Input power over current protection
Low input voltage protection
High input voltage protection
Output power over current protection
Short circuit protection
Imported power polarity protection for anti-welding

Industrial Housing & Connector

Iron Airtight Housing
IP 67 Gland Connector

Connector Type

Input DC Power: 11~15VDC Max, DC Jack
Output AC Power: 22VAC~25VAC Max, DC Plug

Operating Temperature

-30°C ~ +60°C

Storage Temperature

-20°C ~ 40°C

Rel. Humidity

0~95%RH

Dimension

210mm (L) x 92mm (W) x 50mm (H)

Weight

0.5Kg

Housing

IP67

Approvals

CE FCC Processing

Installation

1.Street lamp pole mount or Upright pole mount
2.Wall mount installation

Warranty

12 months
Ps 1: Product specifications change, without notice, consultation with agent or dealer before buying the latest specifications